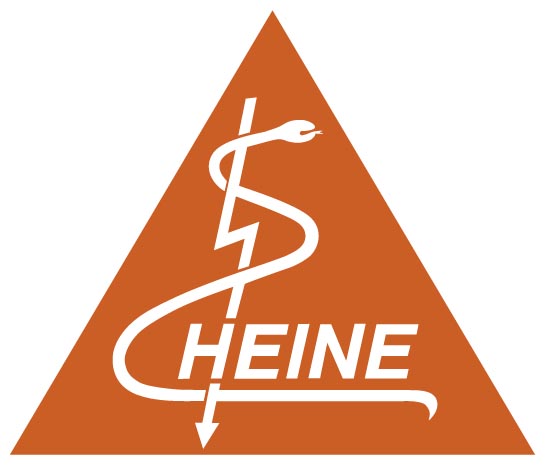 HEINE Diagnostic Set: BETA 100 Otoscope & BETA 200 LED Opthalmoscope (USB Rechargeable Handle)
BETA Set 2.5V - BETA 200 LED Ophthalmoscope + BETA 100 Otoscope + BETA USB rechargeable Battery Handle
Set complete with:
BETA 200 LED Ophthalmoscope
BETA 100 Otoscope
BETA 4 USB rechargeable handle with USB cord and plug-in power supply
1 set of reusable tips
5 of both AllSpec disposable tips 2.5 and 4 mm
1 spare bulb each for XHL version
Hard case
HEINE BETA 200 LED Ophthalmoscope
Superior aspherical optics now with LED HQ illumination
Exclusive dustproof design protects the precision optical components and ensures maintenance-free operation.
Aspherical optical system
Aluminium frame system
Eliminates corneal reflex
Ideal for small pupils
LED in HEINE Quality
The ophthalmoscope with unique aspherical optics and all features of the BETA 200S LED, but:
Without macula aperture (pinhole)
The BETA 200 Ophthalmoscope accommodates higher refractive errors with a 27 single lenses Rekoss Disc.
+ in 1 D steps: 1 – 10 15 20 40 D
– in 1 D steps: 1 – 10 15 20 25 35 D
Full functionality of the BETA 200 LED is guaranteed with BETA Rechargeable Handles and the EN 200 / EN 200-1 Wall Transformers.
Also available with XHL Xenon Halogen illumination
HEINE BETA 100 Diagnostic Otoscope
Silica glass viewing window
An otoscope with direct Xenon Halogen illumination in an elegant all-metal ­instrument head. For use with reusable specula or UniSpec disposable specula. With tip-adaptorit is also possible to use AllSpec disposable tips.
All-metal housing.Exceptionally tough and durable.
Instrument head matt-black inside.Eliminates reflexes.
XHL Xenon Halogen Technology. Extremely bright, white light.
Large, scratch-resistant glass viewing window with 3x magnification.Very sharp, distortion-free image.
Swivelling viewing window built into instrument. Useful for instrumentation, cannot be mislaid.
Insufflation port.Reliable test of tympanic mobility
HEINE BETA4 USB Rechargeable Handle
Next-generation energy management
Maximum safety and flexibility. You can charge your HEINE BETA4 USB Handle with any USB plug or other USB power source, with absolute peace of mind.